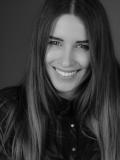 Kamilla Steczkowska
is een Vlaamse actrice en assistent-regisseur.
Steczkowksa was in 2012 als Lamia te zien in de kortfilm Carrière en in 2015 als Justine in de kortfilm Cloudwalker. Naast acteerwerk werkte ze ook mee als assistant-regisseur aan verschillende kortfilms, waaronder Deposito Barbae (2014), In De Lift (2015) en The Monster That Broke My Heart (2016).
In 2015 maakte Steczkowska haar debuut in Familie. Ze vertolkte voor enkele afleveringen de rol van Anneleen Denooze in webisodes van serie genaamd De Zaak Bart. Haar personage is slechts van korte duur, want Anneleen wordt vermoord door de maffiafamilie Gallo. Van 2016 tot 2017 vertolkte Steczkowska opnieuw een rol in Familie, ditmaal de rol van aartsvijand Isabella Gallo. Dit is de eerste keer dat haar personage te zien zal zijn op televisie, in tegenstelling tot de webisodes van De Zaak Bart die enkel online konden bekeken worden.
Sinds 2018 maakt ze deel uit van de Vloggers van Vloglab op VTM Kids; Ze speelt zichzelf in de #stories series.
Community content is available under
CC-BY-SA
unless otherwise noted.